DESIGN
Kokontozai: KASHIYUKA's Shop of Japanese Arts and Crafts — Doll's Festival Mobiles
『カーサ ブルータス』2023年3月号より
March 8, 2023 | Design | KASHIYUKA's Shop of Japanese Arts and Crafts | photo_Keisuke Fukamizu hair & make-up_Masako Osuga editor_Masae Wako translation_Mika Yoshida & David G. Imber
Searching all of Japan for handcrafted items that express its heart and soul, our proprietor, KASHIYUKA, presents things that bring a bit of luxury to everyday life. Our visit this time is to Izu Inatori in Shizuoka prefecture for Hinamatsuri season, highlighted by a holiday sometimes called Girl's Day — a season marked by gorgeous displays of traditional dolls. Here we came across Tsurushikazari, signifying hopes for happiness shared by daughters and granddaughters everywhere.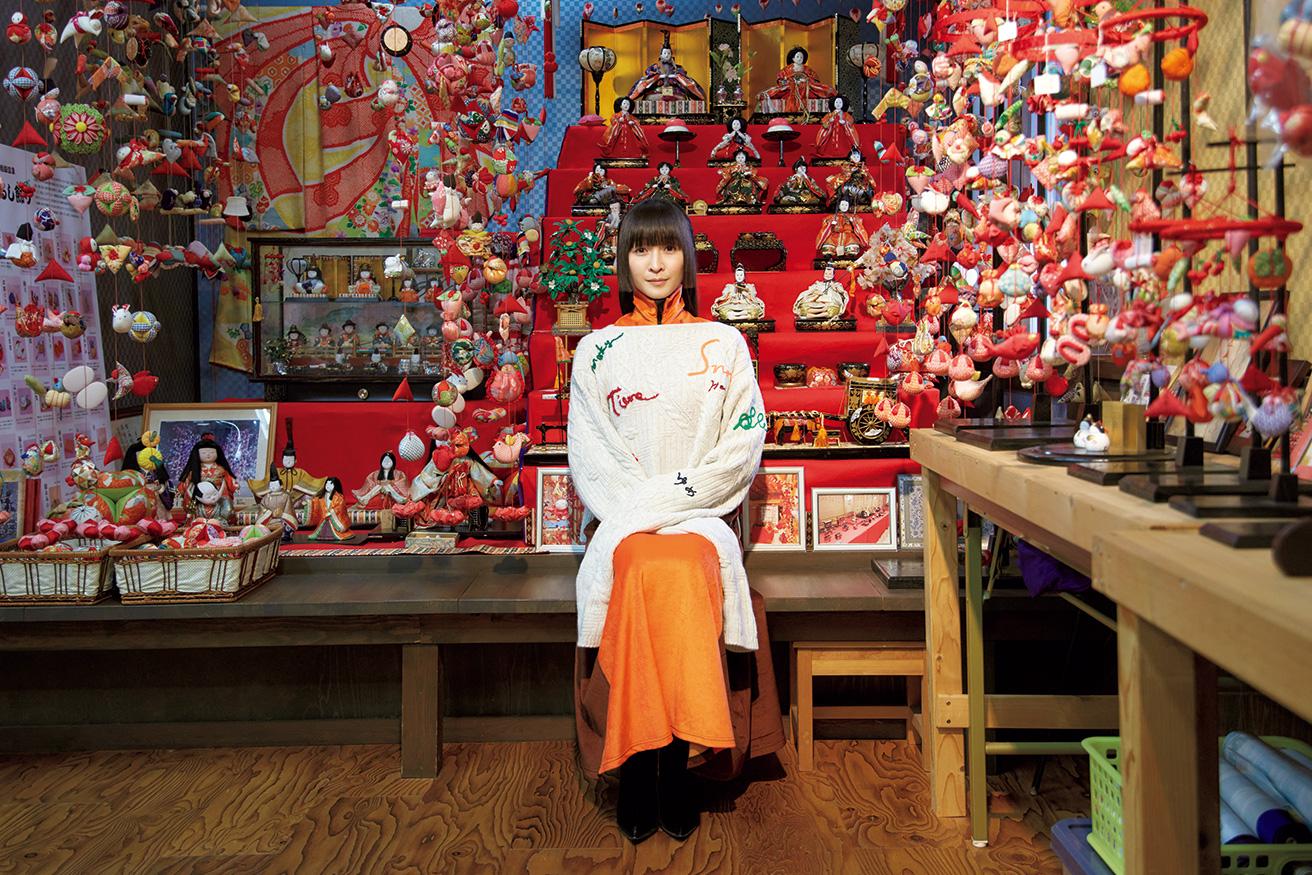 Hina-no-tsurushikazari, mobile-like hanging decorations that are suspended at the side of traditional tiered Hina ningyō (Hina doll) display stages, are the unique handcraft associated with the Izu-Inatori district of the town of Higashiizu, a place also known for the distinctive cherry blossom known as kawazu sakura. Our shopkeeper KASHIYUKA visited Kinu-no-Kai, a group dedicated to preserving this tradition. "Amid the spirit of devotion to the future of children I sense an incomparable feeling of love," she said.
When any Japanese person thinks of Momo-no-Sekku, the spring peach festival, the image that comes to mind is of a compact, staircase-like stage, mounted with figurines called Ohina-sama and Odairi-sama, idealized depictions of fabled royalty. But until I'd traveled around the country I didn't realize that these traditions were passed down throughout Edo-era Japan in the mid-19th century. Peaches, monkeys, rabbits and nanten fruit, all in the form of colorful ornaments hung with red thread.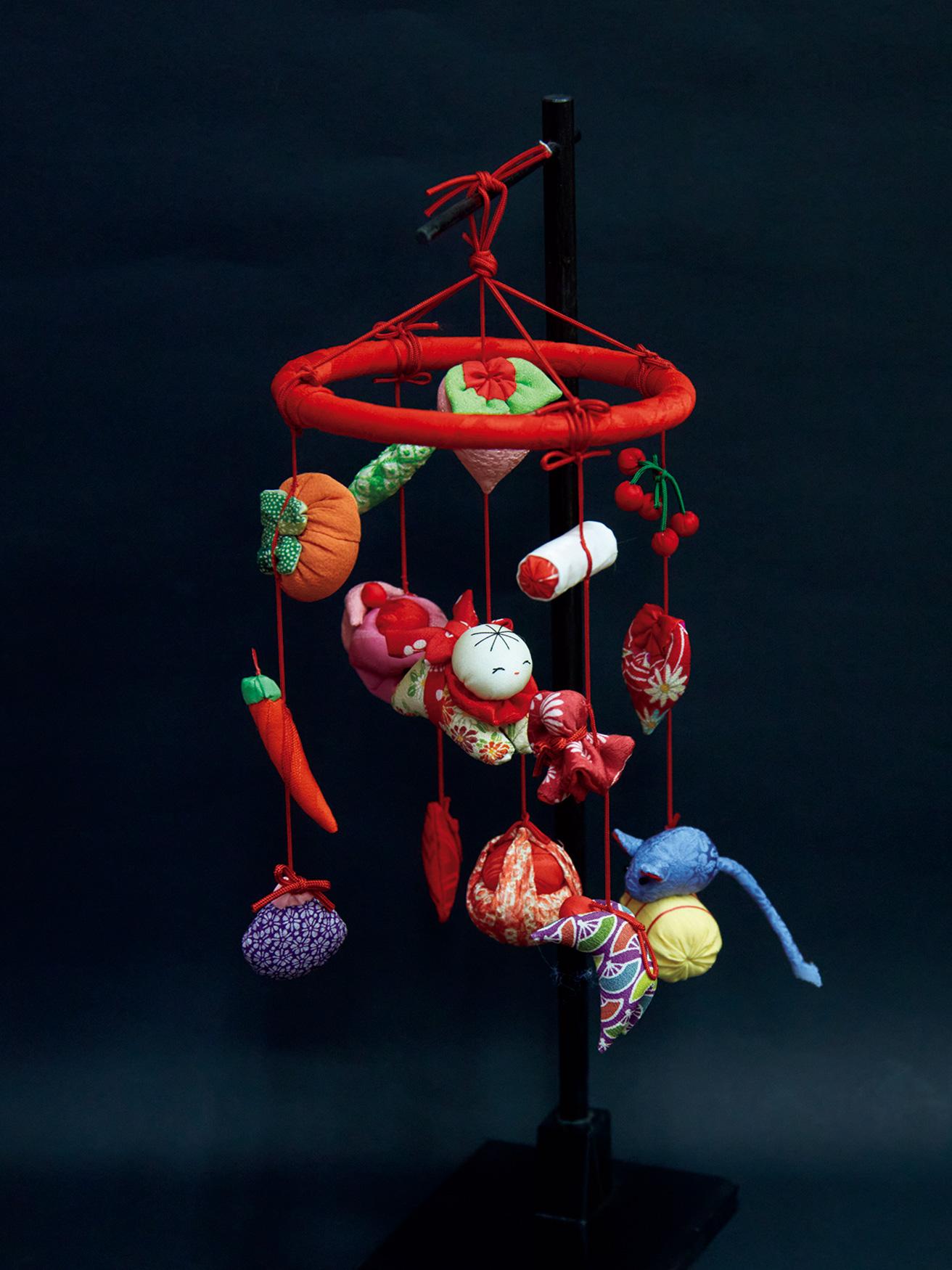 Purchase No. 58【Doll's Festival Mobiles】Small, handsewn Hinamatsuri decorations — suspended doll figurines summoning the happiness of women young and old.
"The Hina-no-Tsurushikazari are to be hung on both sides of the tiered hinadan, the staircase-style display that is raised at a girl's first cherry blossom festival. Mothers and grandmothers make them by hand, instilling wishes for the girl's health and happiness," says Mr. Toshinaga Mori of the Kino-no-Kai, the group dedicated to preserving the local custom in Izu-Inatori, Shizuoka prefecture. In this group, local housewives work on them all year round. "This ornamentation originated in the late Edo period. Hanging ornaments are rather rare in Japan. Izu-Inatori's Hina-no-Tsurushikazari are one of the 'big three', along with Kasafuku in Sakata, Yamagata prefecture; and Sagemon in Yanagawa, Fukuoka prefecture. The exact origin is uncertain, but since these three locales were important seaports, the custom may have been circulated by sailors working on the cargo ships."