DESIGN
Kokontozai: KASHIYUKA's Shop of Japanese Arts and Crafts /[WIREWORK]
April 8, 2019 | Design, Travel | photo_Keisuke Fukamizu editor_Masae Wako hair&make-up_Masako Osuga translation_ Mika Yoshida & David G. Imber
Searching all of Japan for handcrafted items that express its heart and soul, our proprietor, KASHIYUKA, presents things that bring a bit of luxury to everyday life. This trip takes her to Kyoto, the capital of Japanese handcraft, to call on a Kyo-Kanaami shop. She'll learn about these simple, hand-woven kitchen tools that enriched life in the ancient city.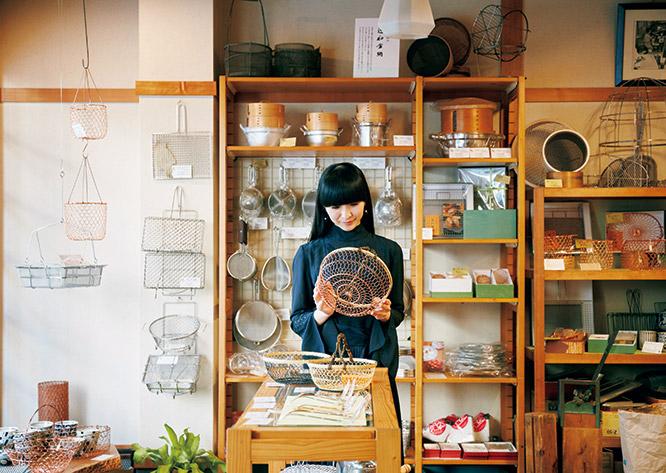 Our shopkeeper KASHIYUKA is entranced by kitchen utensils – baskets, tofu scoops – everyday lifestyle items constructed entirely by hand out of thin wire, called Kyo-Kanaami. Here, at Tsujiwa-Kanaami, a shop established in 1933, she's "…transfixed by the beauty of craft carried out faithfully, again and again over time."
Since I began my journey into curating handcrafted goods, I've considered how privileged I am to be able to watch these artisans at work before making my purchase. I always reflect that these items are, "…so utterly simple, and yet look how much time went into them." And that, "their form is the product of their history, and meaning…" Every time I use tools and utensils like these I'm reminded, "this was made by hand", and I end up liking them even more. This time around I want to convey that sense of discovery through my visit to Tsujiwa Kanaami, maker of Kyo-Kanaami. When you visit, if the timing is right, you can watch these kitchen items being woven right in the shop.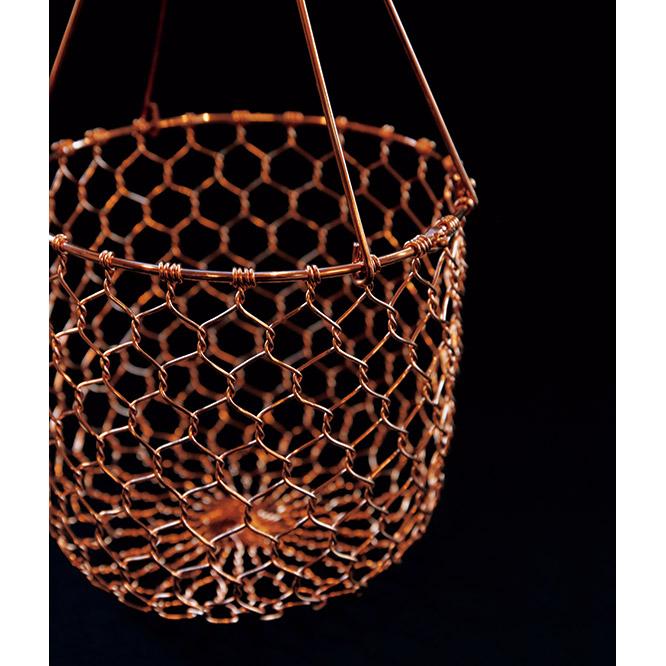 Purchase No.13 【Wire Mesh Hanging Basket】 A hand-woven Kyo-Kanaami style basket that voices the artistic heart of its Kyoto birthplace
Kyo-Kanaami is a traditional craft that dates from the Heian era, roughly 800 to 1200 C.E. Thin metal wire is woven into lifestyle and cooking aids, coming to painstaking, pragmatic form through the skillful working of experienced hands.

"Kyo-Kanaami was born from the needs of traditional dining places and fine cuisine restaurants alike, and developed through history," said third-generation owner, Mr. Yasuhiro Tsuji. "We're still making a wide range of items used every day in homes and by professionals." Suddenly it's clear that the refinement of these tools came under the critical view of demanding Kyoto chefs. The shop is filled with fascinating items, characteristic of Kyoto; things like yudofu shakushi – a mesh ladle used for maneuvering tofu in a traditional hot pot – an incense stand, baskets for drying vegetables and shiitake. He promptly showed me how they are made.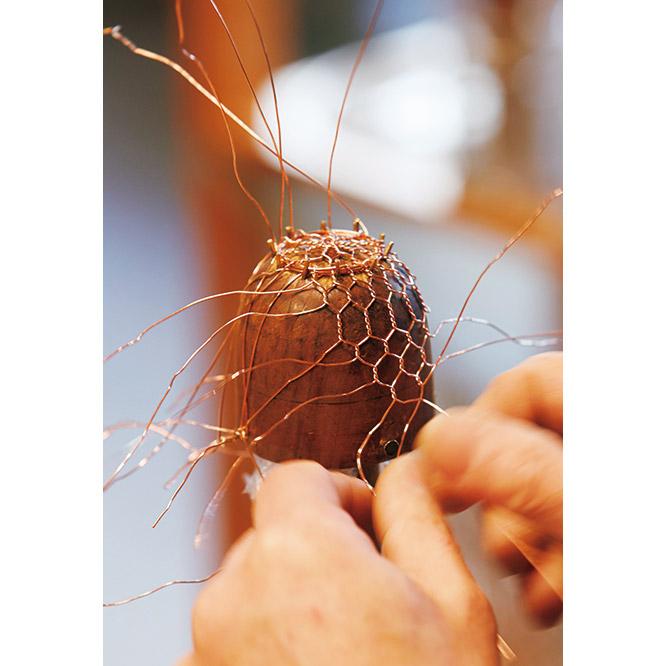 Creating a beautiful hexagonal weave with just a twist of the fingers.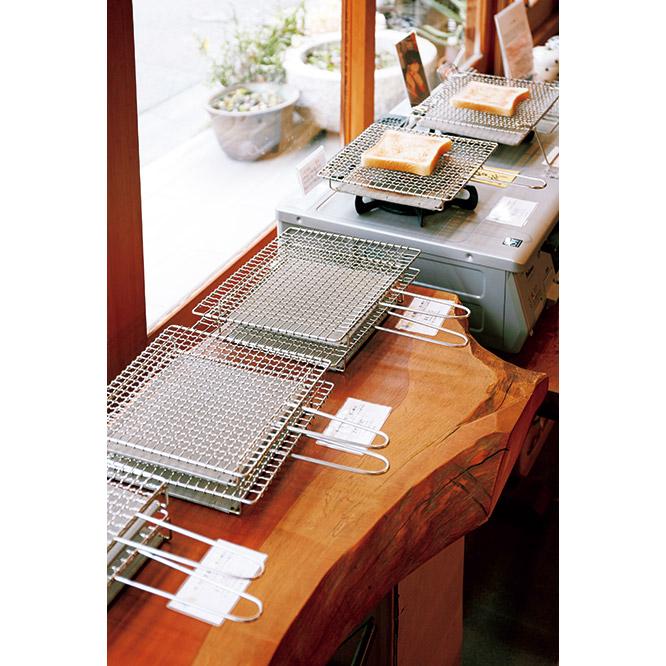 You can toast bread and broil vegetables over direct flame with these handled grills. A favorite of professionals as well.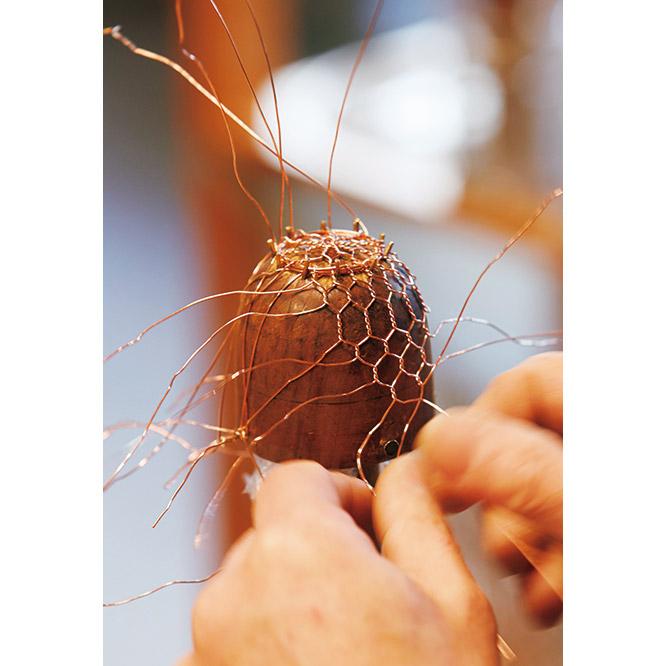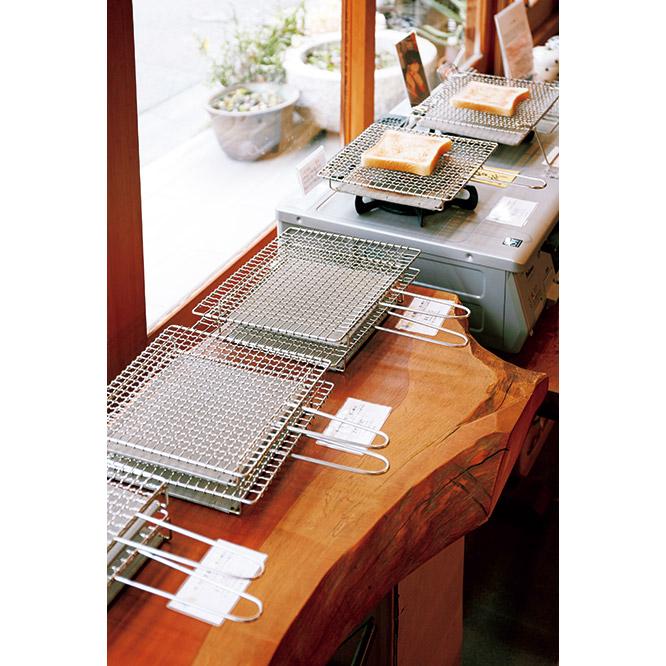 "The hand-woven mesh takes on a hexagonal shape," says Mr. Tsuji, while crossing wires one over another across a nail pounded into a base. He weaves the wire by feel, making subtle adjustments through the pressure of his fingertips, twisting them tightly to finish the knit. This "tensioning" is the key to both the beauty and the utility of the object. Compared to machine-made wirework, hand-woven is sturdier, yet looks more delicate. The copper items, in particular, offer antibacterial properties along with superior heat transmission.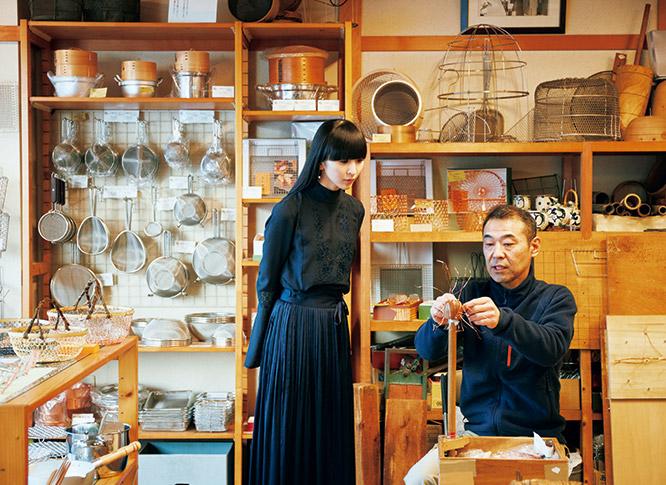 Third-generation owner, Mr. Yasuhiro Tsuji.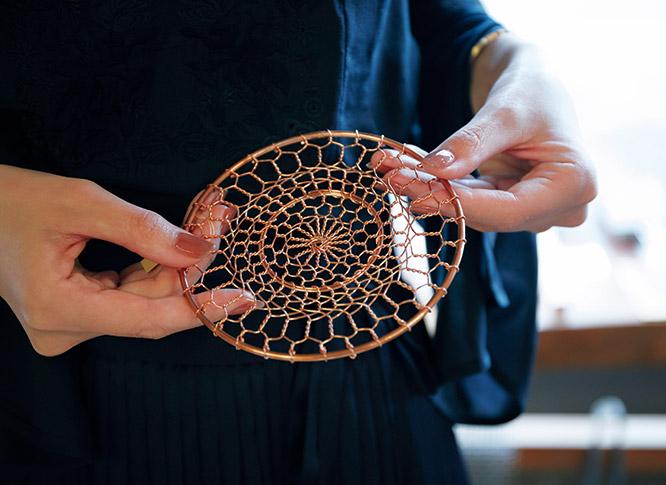 What was first an ornamental pattern on a building, at the suggestion of a regular customer became a trivet, and one of the shop's best-sellers.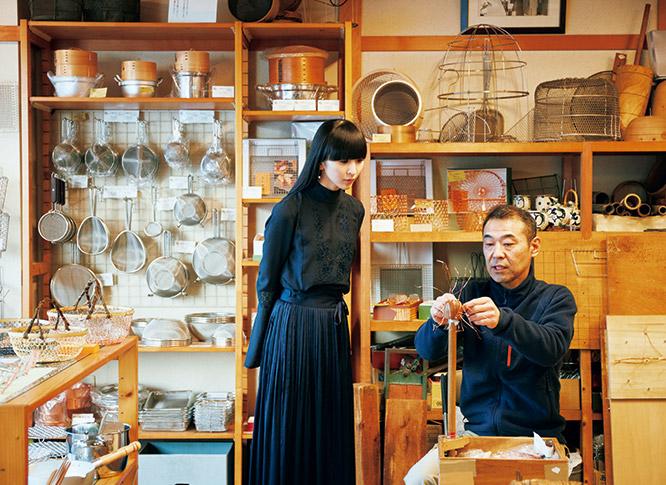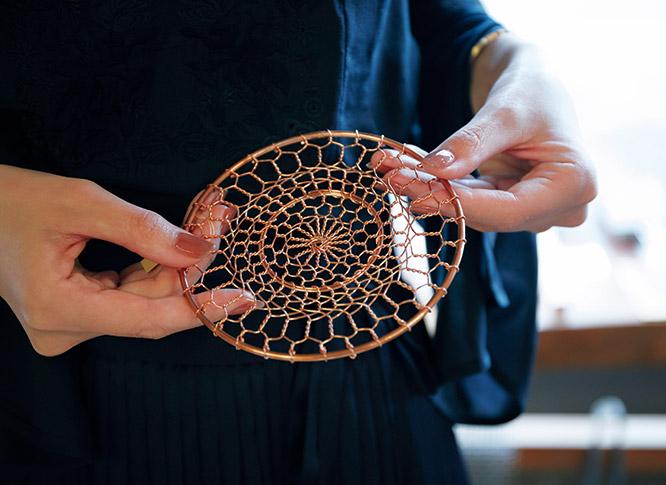 "A great feature of this wirework is that it can be made in a wide variety of shapes and patterns, depending on method. There are designs carried over from our past, and we occasionally make new forms to order, and they become part of our regular lineup." Though the weave looks simple and regular, it's in fact filled with complications, from the number of twists, to doubling the strands. Everything depends on how the item is being utilized. While hewing close to tradition, the maker can be flexible and creative through a subtle variation of the handwork. It seemed to me to express the coexistence of intricacy and openness in a single look.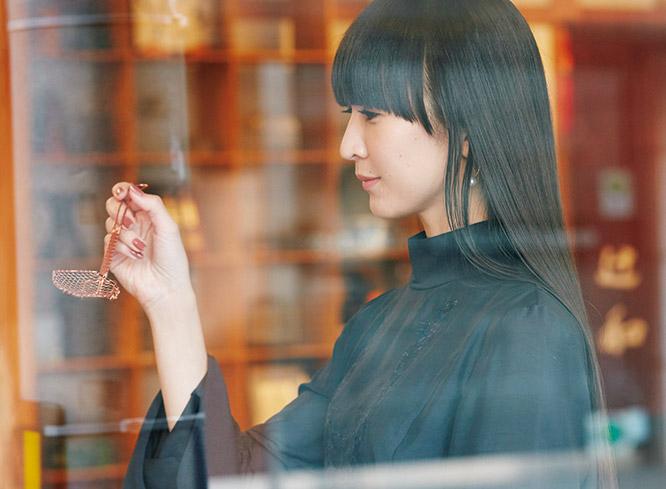 "To have a tool devoted solely to moving tofu feels like a beautiful sort of indulgence," said KASHIYUKA.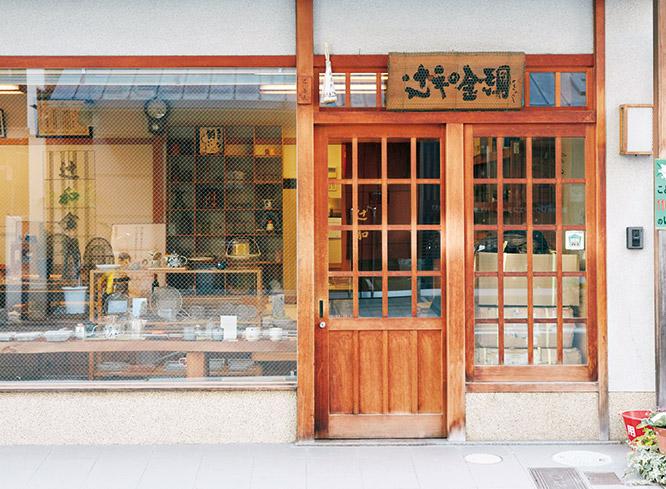 The shop, located near Ebisugawa street.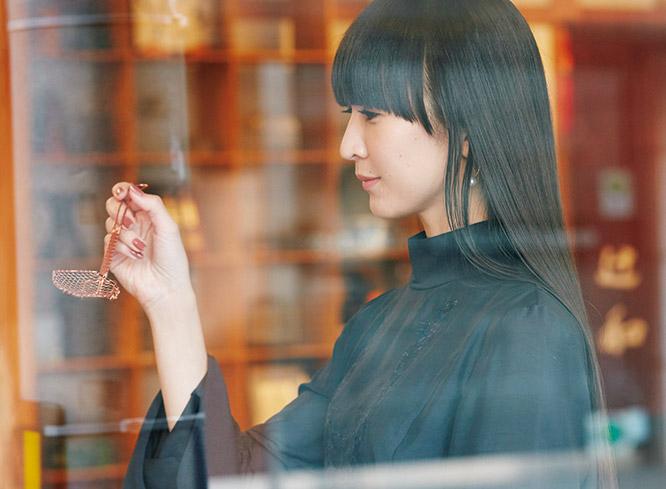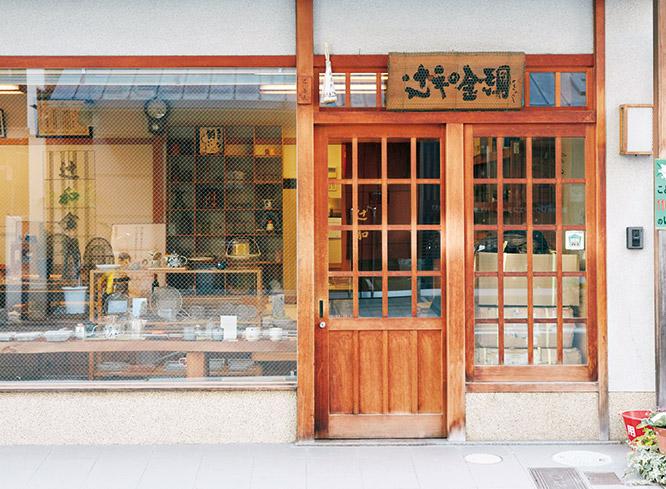 Well, once again I had trouble choosing among the many things that I just wanted to make my own. But I settled on a "copper hanging basket", which I envisioned in its real-life setting, holding onions and garlic, hanging in the kitchen. This is the woven handwork of Japan's "Millennial Capital", charming you with every gorgeous stitch.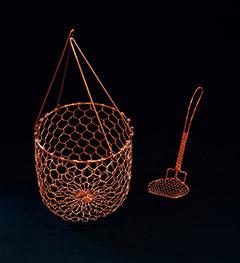 Copper Hanging Basket by Tsujiwa Kanaami
Left: You can hang fruits and vegetables, or decorate it with flowers and plants. Small – 14 cm across and 14 cm deep, ¥4,500. Right: Yudofu ladle, copper, hexagonal pattern, midsized. Length – 16 cm, ¥2,000. Tsujiwa Kanaami, 175 Kameya-cho, Ebisugawa-kudaru, Sakai-machi, Nakagyoku, Kyoto-shi, Kyoto. Tel075 231 7368. Open 9 am-6 pm, closed Sundays and holidays.
KASHIYUKA
Yuka Kashino, known as KASHIYUKA, is a member of the electro-pop group Perfume. They are currently in North American for a tour supporting their latest album "Future Pop," including dates at Coachella 2019, one of world's top music festivals. Lately, traditional toys from various places in Japan have been on her mind.www.perfume-web.jp