DESIGN
Kokontozai: KASHIYUKA's Shop of Japanese Arts and Crafts — Wild Cherry Bark Tea Canister
『カーサ ブルータス』2023年2月号より
February 8, 2023 | Design | KASHIYUKA's Shop of Japanese Arts and Crafts | photo_Keisuke Fukamizu hair & make-up_Masako Osuga editor_Masae Wako  translation_ Mika Yoshida & David G. Imber
Searching all of Japan for handcrafted items that express its heart and soul, our proprietor, KASHIYUKA, presents things that bring a bit of luxury to everyday life. Our visit this time is to Kakunodate in Akita prefecture, famous for its cherry blossoms, where we encountered Kabazaiku tea canisters made from the bark of prized wild cherry trees.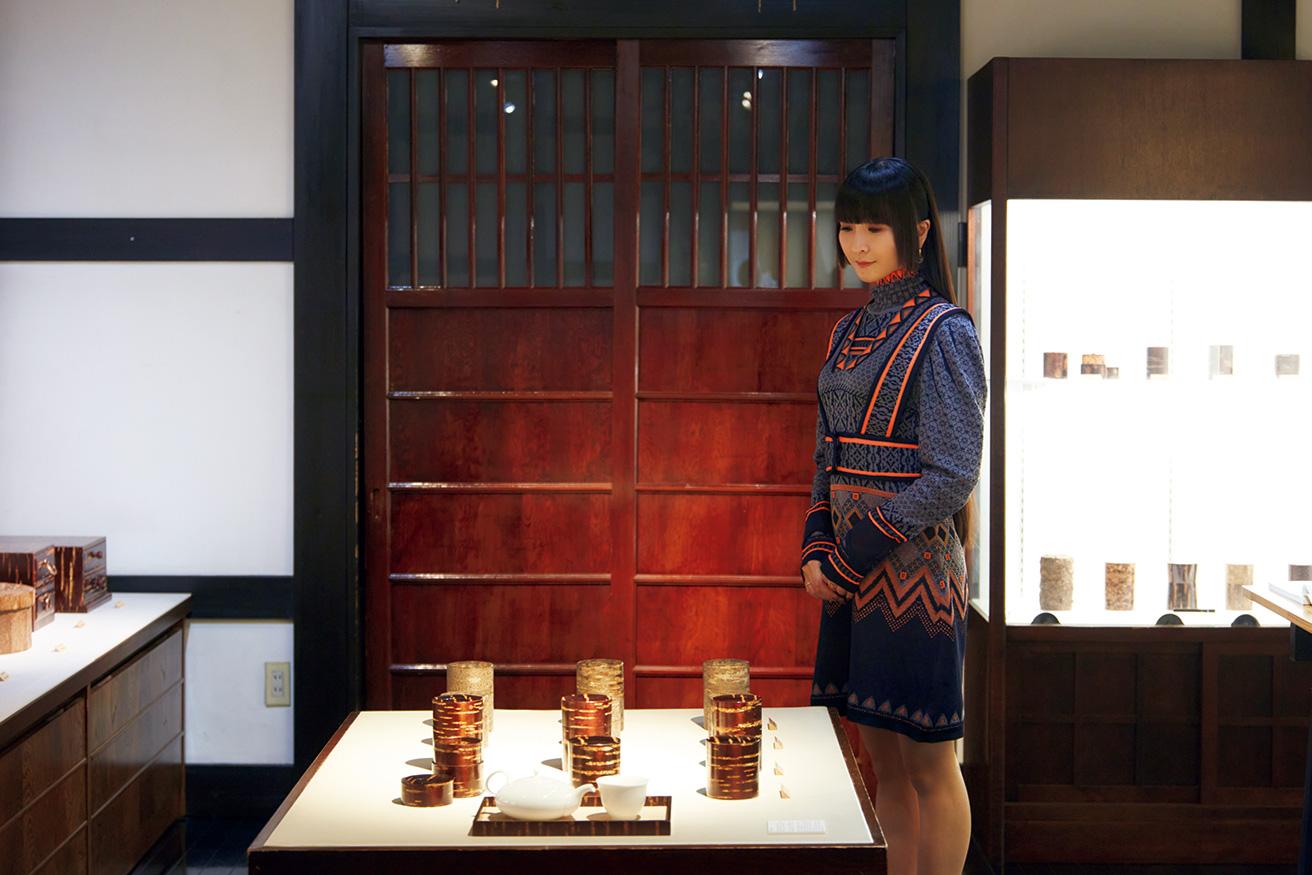 Fujiki Denshirō Shōten was founded in 1851, carrying on the traditional craft of kabazaiku in Kakunodate, Akita prefecture and bringing it to the present day. KASHIYUKA is comparing tea canisters of the silver bark type in the main building. "There are so many colors and individual characteristics to the bark of the yamazakura!".
In Kakunodate, Akita prefecture, where here and there 400-year-old samurai dwellings still stand. The town is known for its gorgeous cherry blossoms and for kabazaiku, literally "wild cherry bark work", which was at one time a side business for the local samurai. "Kaba" is an alternate name for the mountain cherry tree. It is said to have come from oldest collection of Japanese short verse, the Man'yōshū, in which the poet Yamabe no Akahito referred to the tree as "kaniha", ultimately euphonized to "kaba".

This time around I visited the 170-year-old workshop of Fujiki Denshirō Shōten. The studio produces tea canisters and other everyday items handcrafted by artisans under the name Kakunodate Denshirō. Among these, what caught my eye was a traditional tea container made by the nationally recognized, registered traditional artisan Mr. Kengo Yonezawa. I was drawn to the beauty of the pattern and its size and usability.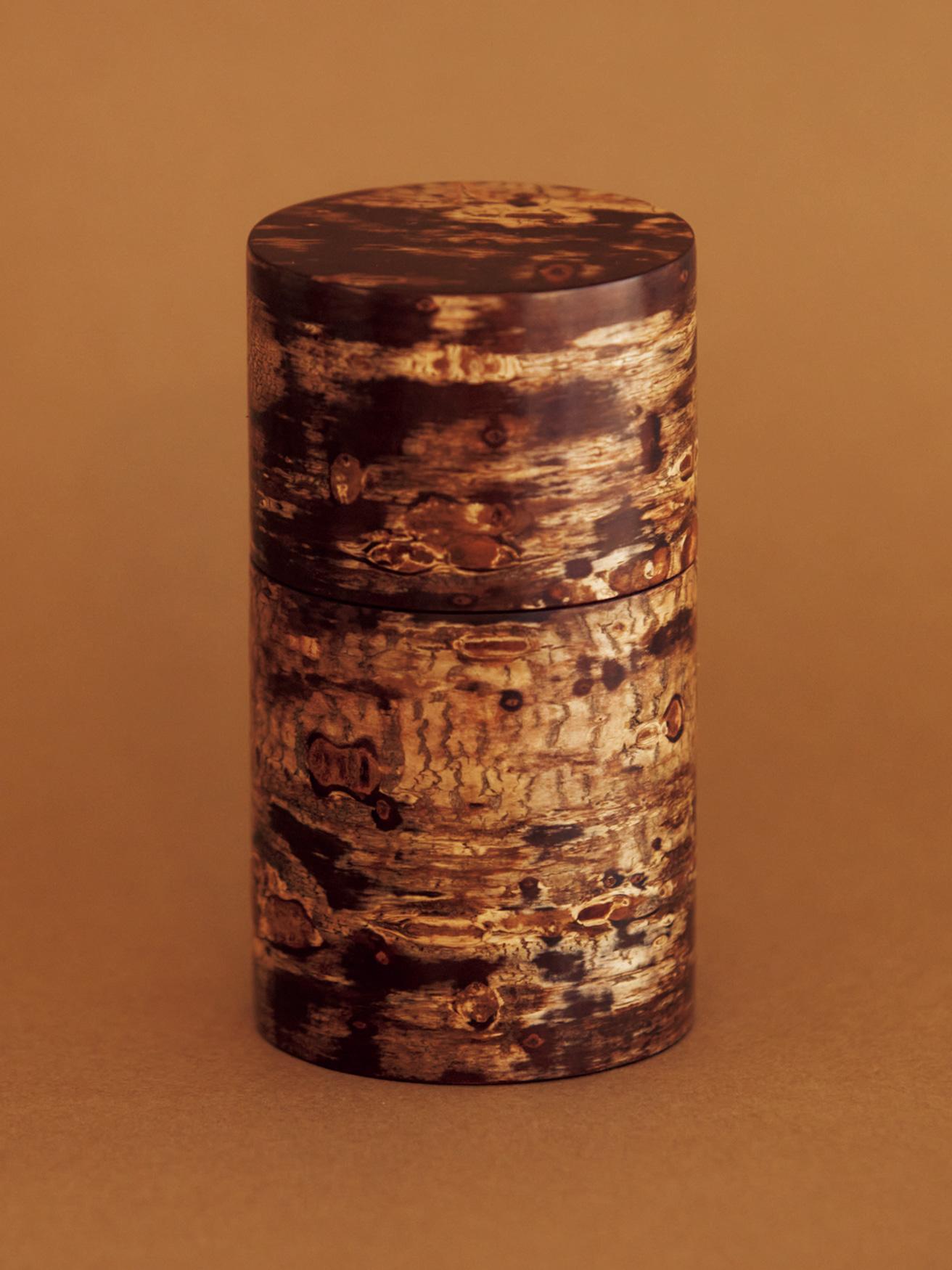 Purchase No.57[Wild Cherry Bark Tea Canister]Tea canisters of wild mountain cherry tree bark express rich character.
Says Mr. Yonezawa: "I'd long loved the designs of Yanagi Sori, and when I was made aware that his father, Yanagi Soetsu was interested in kabazaiku I discovered the beauty of this local craft, which I'd previously written off as 'old-fashioned'." In the natural light-bathed workplace, wild cherry bark and crafting tools are very neatly arranged. "Tea canisters are made using a technique called katamono that uses tubular wooden molds. Very thinly sheared strips of wood and cherry bark are painted with glue on their unshown side and mounted on them, and then a hot trowel is used to bond the materials together. The wood forms the core, and the bark, the surface."