DESIGN
Kokontozai: KASHIYUKA's Shop of Japanese Arts and Crafts /[ Sanukikagari Temari]
『カーサ ブルータス』2019年6月号より
June 7, 2019 | Design, Travel | KASHIYUKA's Shop of Japanese Arts and Crafts | photo_Keisuke Fukamizu editor_Masae Wako hair&make-up_Masako Osuga translation_ Mika Yoshida & David G. Imber
Searching all of Japan for handcrafted items that express its heart and soul, our proprietor, KASHIYUKA, presents things that bring a bit of luxury to everyday life. She traveled to Kagawa prefecture, the area once called "Sanuki Country", to visit a workshop making Sanukikagari Temari, a local, traditional toy made using exquisite cotton yarn.
It's a place where culture is preserved through Sanukikagari Temari, the local folk toy beloved from generations past. This studio, once a kindergarten, in Takamatsu, Kagawa prefecture, is where the construction and vegetable-dying takes place. In our shopkeeper, KASHIYUKA's hands, one with white threading.
When I travel throughout Japan, I find myself looking at traditional hariko papier-mâché animal dolls and similar sorts of folk art figurines, like the tsuchi ningyo. Unlike traditional tools and other functional objects, they've no practical purpose other than to enrich everyday life, arousing joy at the sight of them.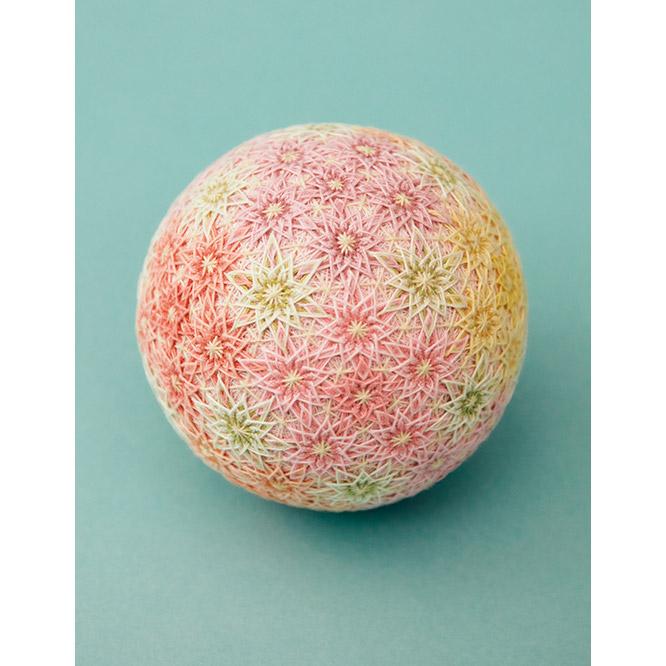 Purchase No. 15【Sanukikagari Temari】 A sweet, traditional toy made with naturally dyed cotton yarn.
The temari, this time, is another of these objects. Clothed in pink, orange, and madder red, upon first looking at them, with gaze fixed, the single word "…adorable…" was all I could bring myself to utter. I was told that the temari's roots are in the imperial court of the Heian era, roughly 800-1200 CE, where they were made to amuse young princesses. It's no wonder they're so sweetly pretty. Before long they reached the masses, and were produced widely for generations in the region known as Sanuki no Kuni (Sanuki Country), in Kagawa prefecture. Interest waned, and the practice almost vanished until the 1970s, when the "Sanukikagari Temari Preservation Society" was formed to revive it.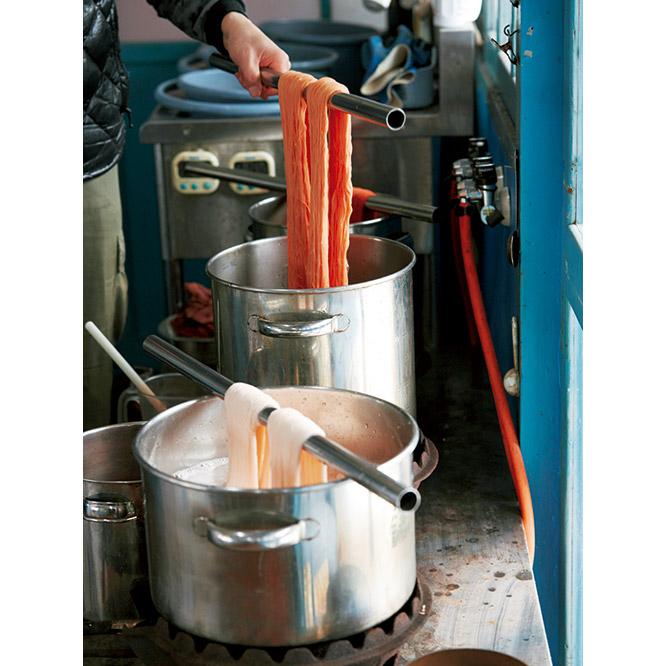 Dyeing yarn using herbaceous natural colors such as madder root.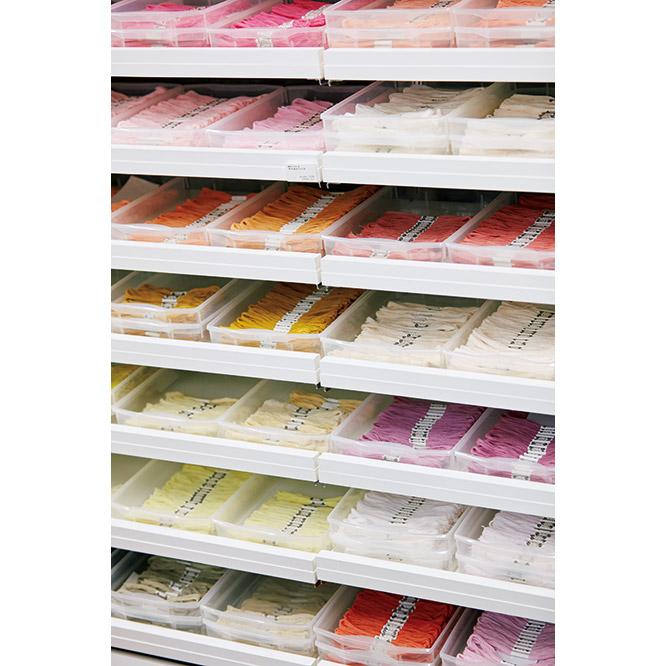 Cotton yarn showing varied and subtle gradations of color.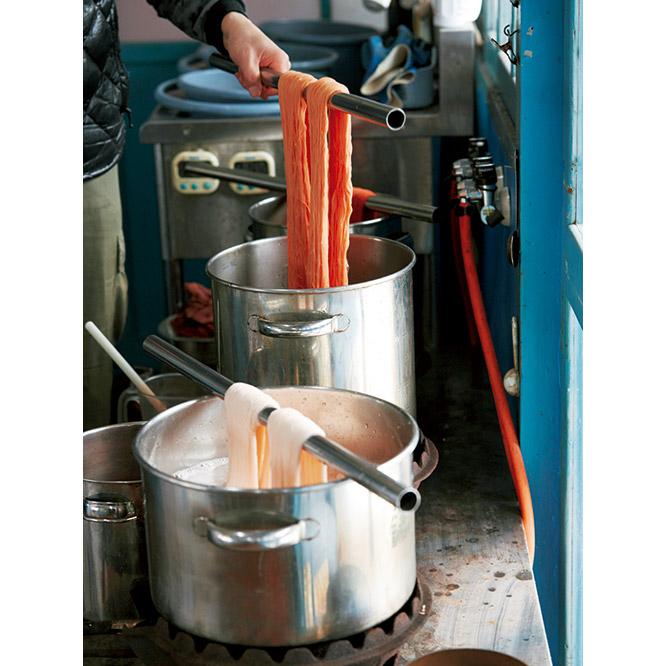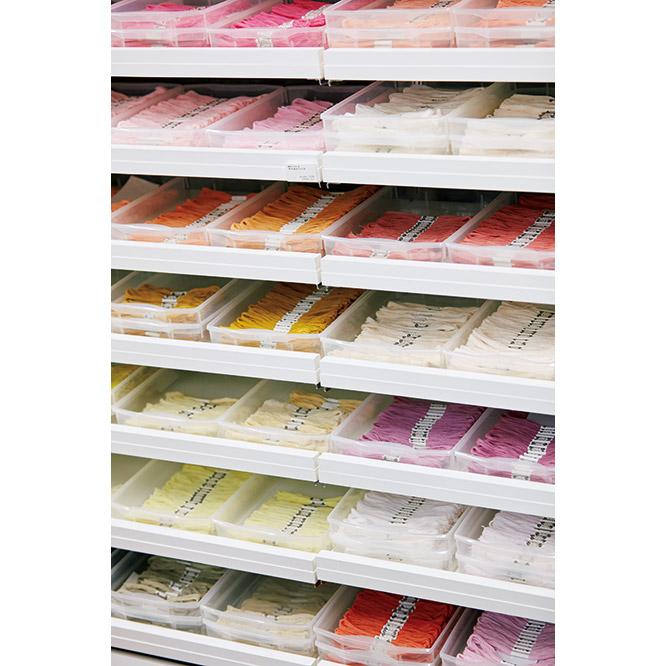 The verb kagaru, from which the name is derived, "refers to the act of picking and pulling string," says Ms. Eiko Araki, the society's principal representative, who showed me the process on my visit. The spherical base is formed of rice husks wrapped in thin paper. Then a guide is set in place using the thin yarn, and from that, a process of picking and pulling the yarn commences. The yarn is always cotton, dyed with plant, bark, and flower-based colorings, and the patterns are always geometric. This is the unvarying method and style from so long ago that the society has worked earnestly to continue.

The patterns follow set motifs, from those that portend good fortune, like the interlocking shippo "Seven Treasure" formation, and the kikko "Tortoise Shell", to Japanese native flowers and blossoms. Even their names are charming, "Chrysanthemum Interlock", "Cherry Blossom Crisscross", "Star Heaps". The cotton threads are individually dyed with wild plant colorings; the natural herbaceous colors of indigo, madder, the ubiquitous Japanese benibana crimson, all so soft and genteel.